The year 2020 and the Covid-19 pandemic emphasized the importance of the internet to our sense of community, from global political and economic interactions to interpersonal and social communication.
Of course, the internet was not invented in 2020, nor was our reliance on it born overnight. While the internet and digital communication has been touted as a great equalizer, the same inequalities that plague our offline societies are mirrored when it comes to access and inclusion within digital communities.
Individuals and groups that experience this exclusion and disenfranchisement from the digital space also experience exclusion and disenfranchisement from archaeological practice and narratives.
In this article I examine two archaeological projects, and their use of digital mediums, as they attempt to address these inequalities. As with most of the world, archaeologists have had to navigate new forms of engagement to suit a changing political and cultural landscape. As part of this exploration of new methodologies, the potential of digital interactions is especially enticing.
Levi Jordan Plantation
The first example emerged at a time when the internet was still new, and when engaging non-academic or professional communities in archaeological practice was still relatively novel. The website was developed by Dr. Carol McDavid in 1998, in association with the Levi Jordan Plantation, which was being excavated by Dr. Kenneth Brown (University of Houston).
In the nineteenth century, the plantation had been extremely profitable through cotton and sugar production, and the descendants of both the white landowners and Black enslaved people still live in the area today ("Levi Jordan Plantation History," Texas Historic Commission). McDavid wanted to create a website that would go beyond simply presenting finds and facts, instead hoping to engage the local community in democratic interpretation of the site (McDavid 1997).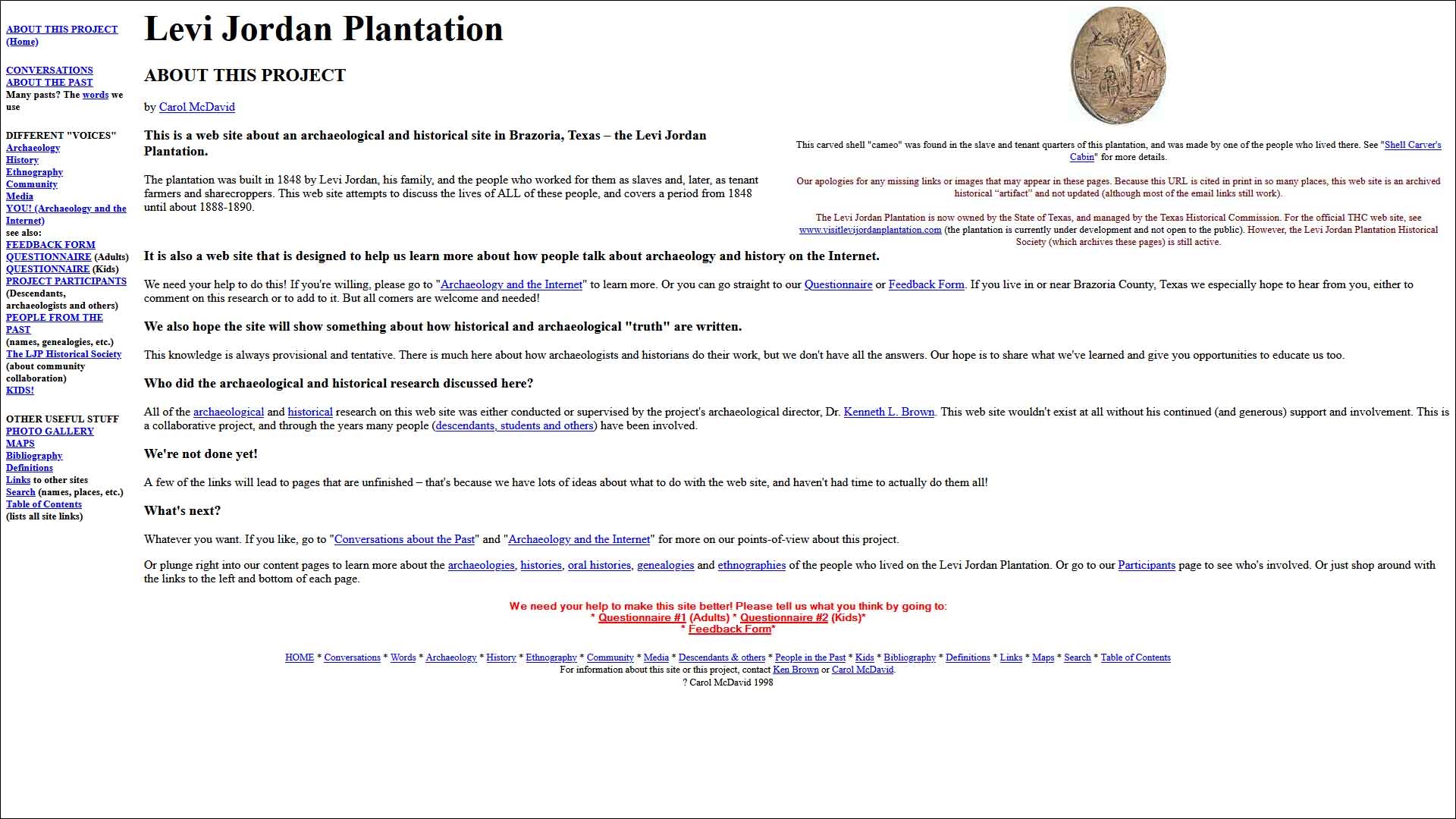 It is important to remember the technological limitations of the internet in 1998: social media did not yet exist and digital literacy was significantly more limited than it is today. So, McDavid relied primarily on questionnaires and the comment section of the website for communication purposes.
Nonetheless, her goal was to "weave" a website where archaeologists could effectively communicate their findings, without privileging them over the diverse (and sometimes conflicting) narratives of community members. Through this process, McDavid hoped to create an environment where these narratives could come together, be treated as equal, and a new, more complete understanding of the site might emerge (McDavid 2002).
The first step in McDavid's work was oral history interviews, which were conducted by asking younger family members to pose questions to members of the older generations. This interview format creates a more comfortable atmosphere for the interviewee and would often spark larger family debates, all of which would be transcribed.
Then the families were given a copy of the transcripts for clarifications, but also for permission, before being published on the website (McDavid, 2002). This was coupled with a wider policy of asking permission regarding the publication of material on the website, despite not being legally required to do so – much of the genealogical and historical information are public record.
This process allowed McDavid to foster relationships based on trust, reassuring descendants that she and her team respected their privacy and were committed to their roles as collaborators instead of authorities with a "right" to the families' pasts (McDavid 2002).
McDavid also included interviews with the archaeologist, Dr. Brown, as well as many of his students. Here, they had a chance to describe how they arrived at their conclusions, how they debated, discussed and ultimately arrived at interpretations and theories of the site. They discussed how they used ethnographic and historical data to inform their conclusions and how they looked at artefacts and their contexts as data.
This reflective exercise helped to publicize some of the assumptions of the archaeologists and to make the archaeological process as transparent as possible. McDavid hoped that this would help to dispel the appearance of archaeologists as the highest authority on the creation of the past and its narratives (ibid).
Despite McDavid's attempts to create a digital space for democratic dialogues between interested parties, she has written that, overall, the project did not accomplish its goal. She has interpreted the interaction with the completed website as only surface level, finding most of the comments were from individuals who already had some interest or background in history or archaeology and the comments were mainly praising the design and creativity of the website itself.
She had hoped that by creating a space for open discussion in the platform of this website, it would itself become a place of open and competing narratives to interact with each other (McDavid 1997). The authority of the archaeologists was not questioned and at no point were their conclusions challenged.
Interestingly, McDavid suggested that perhaps if she had created a univocal and hardline presentation of the site, they may have received pushback and that in turn may have elicited a more diverse participation in the conversation (McDavid 2002).
Nikitari: "Telling the Story of Home"
I would now like to turn to a different kind of website, in a different place and a different time. "Nikitari: 'Telling the Story of Home'" is a website created by Dr. Erin Gibson for the "Pathways to Heritage: Community Heritage and the Archaeology of Movement in the Adelphi Forest, Cyprus" (PATH) project ("Periodic Reporting for period 1 – PATH: Pathways to Heritage: Community heritage and the archaeology of movement in the Adelphi Forest, Cyprus," European Commission).
The website went live in 2019 and explores the influence of the abandoned village of Asinou – and the forest in which it lies – on the lifeways of the residents of the town of Nikitari. Nikitari lies on the edge of the Adelphi State Forest, while Asinou remains within the forest boundaries.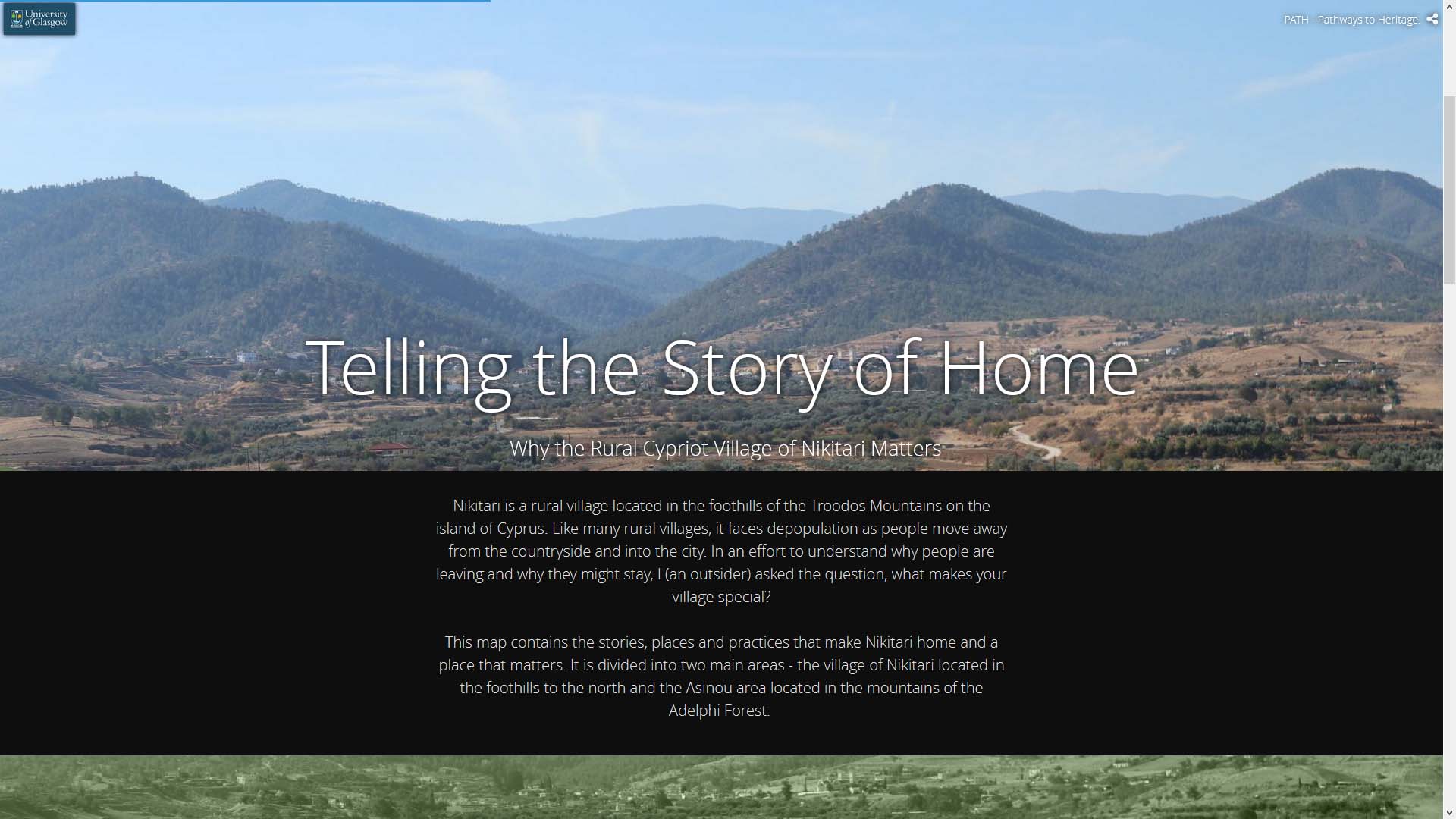 Archaeological evidence from Asinou can be dated to the eighteenth, nineteenth and twentieth centuries, though historical records attest to its foundation in the sixteenth century (Gibson 2020). Though the population dwindled significantly in the twentieth century, until the 1940s, the area was still actively being used by shepherds for grazing their goats.
However, by 1950 most of the inhabitants had moved to Nikitari, or further afield. With some exceptions, collective and individual memory of life in the village and indeed of the village itself began to fade (ibid).
Within the community of Nikitari, this absence of proprietariness or connection to the forest is in no small part due to the clearance policies of the British colonial government throughout the twentieth century. The long-term effect of these clearance policies was the fracturing of the peoples' connection to the forest; the absence created places for new relationships with the landscape and the area, much of which did not include past lifeways.
"New places of significance emerged as people negotiated their individual and collective identities, reworking and reshaping the past to suit their contemporary needs" (Gibson 2020, p. 701). One such place of new focus is Asinou Church, a UNESCO heritage site, which has a large tourist draw and has been the focus of several academic investigations.
By 2016 when Gibson began this project, only one person had any memory of life in the forest or Asinou, Mr. Panayiotis Loppas. Gibson spent 21 hours between 2016 and 2018 in structured and semi-structured interviews, site visits, car rides and walks through the landscape with Mr. Loppas.
His great-grandfather was a shepherd, as were his grandparents and parents; Mr. Loppas carried on the tradition, against land use regulations, and illegally grazed his goats within the forest, thus physically resisting the policies of clearance and maintaining physical and spiritual connections with land.
In the early 1990s he was persuaded to take a job with the Forestry Department as a fire watchman in return for selling his goats, eventually retiring completely in 2002 (ibid).
To foster new connections and reintroduce the local community to the village of Asinou, Gibson engaged the local primary school, Asinou School, not only with archaeological remains within the forest, but also with Mr. Loppas and his storytelling. Asinou School was relatively new and drew students from several separate towns, resulting in a fractured identity within the school itself.
Through Gibson's project, recorded through the website, the students were able to create a new sense of identity and pride. They changed the narrative of their school's name, shifting its namesake from Asinou Church to the abandoned village creating a new and cohesive, collective identity (E. Gibson, personal communication, 21 January 2021).
Thus, they were also manifesting a turn away from official heritage discourse, embodied in the international academic and political focus on the church, towards a more personal and local connection with the past, through a connection to place.
One of the seminal activities Gibson facilitated for the students was a field trip to Asinou village, with Mr. Loppas acting as tour guide and sharing his stories (Gibson, 2020, p. 712):
Panayiotis [Loppas'] performance of memory coupled with the individual and collective experiences of the children enlivened Asinou and transformed it into a heritage place.
After the field trip, the students designed a research project about the village. They learned about the site's distant and recent pasts and shared their findings with their parents and village communities. The students distributed questionnaires and conducted interviews with their parents and grandparents; referred to survey reports generated by archaeological research and accessed colonial documents from the State Archives; learning about the people who lived in Asinou and the forest and why they had to leave.
"This research was both an act of heritage making and an attempt to legitimise a newly emerging collective identity." Through the act of production, the participants in this project were actively creating heritage by connecting their present with the past and with a sense of place.
Archaeology and digital media
Both the Nikitari project and the Levi Jordan website put emphasis on place, though they are emphasised in opposite manners. In Gibson's work, "place-ness" is explicitly explored through ideas of abandonment and reconnection.
The resulting website is a representation of reconnection to a place that is no longer inhabited and whose modes of living were explicitly and successfully oppressed. It acts as an archive – memorializing places within the Adelphi forest and documenting how the community reconnected with them, physically and emotionally (E. Gibson, personal communication, 21 January 2021).
In contrast, McDavid's work focused on a community that has lived in the same place for generations and in many ways has continued the power dynamics and community interactions that evolved out of slavery and Jim Crow policies. Despite addressing this issue of place from differing angles, both websites have a shared interest in giving voice to those who exist outside traditional power structures politically, historically and academically.
Both examples also had to interact with unorthodox interpretations of the past, interpretations that were not always overly concerned with archaeological or historical evidence. This is a complex issue that concerns many archaeologists, but especially those using the digital space and it requires sensitive navigation.
Gibson decided to include Mr. Loppas' alignment of his family history with the foundation of Asinou Church because, "[they] connect him in a powerful relationship with the land and embed him in the genealogy of its past people, places and practices" (Gibson, 2020, p. 708). It also allows room for the interplay between his role in heritage creation and the official heritage discourse.
Gibson valued these stories, not because of their historical veracity, or lack thereof, but because of the role they played in Mr. Loppas' personal identity and heritage and thus the community's identity and relationship to the landscape.
Unfortunately, not all histories unconcerned with archaeological and historical evidence serve such a purpose. McDavid, in her work, chose not to interact with the local and quite active white supremacist groups for reasons that may appear obvious, but when discussing the aspirational goals of inclusivity do need to be addressed (McDavid, 1997).
If the goal of a project is to include all narratives in democratic discussion, but in fact there are lines that cannot be crossed, acknowledging clearly and publicly where those lines are drawn is essential.
Closing remarks
Covid-19 has brought into stark relief the necessity of the internet to our global society. Digital spaces are also crucial to community archaeology's goals of addressing the inequities in the production of archaeological knowledge and within archaeological discourse more broadly.
However, the issues that plague archaeology in physical and theoretical spaces still exist on multiple levels in digital spaces: access to a reliable internet connection; access to the compatible hardware and software; language and reading capabilities; digital literacy; and physical limitations.
The digital space is one, rapidly developing tool that is available to help archaeologists make their practice and communication more inclusive and accessible. Both examples in this article grapple with issues of access and inequality, attempting to give voice to those whose narratives had been suppressed or ignored.
Archaeologists across sub-disciplines and areas of expertise must choose how to address these inequities every day and their consideration is paramount to the success of archaeology as a discipline and, perhaps more importantly, to the quality of life we can help provide for our fellow humans.
Further reading
European Commission. "Periodic Reporting for period 1 - PATH (Pathways to Heritage: Community heritage and the archaeology of movement in the Adelphi Forest, Cyprus)," accessed 11 November 2020.
E. Gibson, "Resisting Clearance and Reclaiming Place in Cyprus' State Forests Through the Work of Heritage", International Journal of Heritage Studies 26.7 (2020), pp. 700-716.
Levi Jordan Plantation. "About This Project," accessed 11 March 2021.
C. McDavid, "Descendants, Decisions, and Power: The Public Interpretation of the Archaeology of the Levi Jordan Plantation", Historical Archaeology 31.3 (1997), pp. 114-131.
C. McDavid, "Archaeologies that Hurt: Descendants that Matter: A Pragmatic Approach to Collaboration in the Public Interpretation of African-American Archaeology", World Archaeology 34.2 (2002), pp. 303-314.
Texas Historic Commission, "Levi Jordan Plantation History", accessed 22 July 2019.
University of Glasgow. "Nikitari: 'Telling the Story of Home'", accessed 11 March 2021.
E. Bollwerk, "Co-Creation's Role in Digital Public Archaeology", Advances in Archaeological Practice 3.3 (2015), pp. 223-234.
C. Bonacchi, "Digital Media in Public Archaeology", in: G. Moshenska (ed.), Key Concepts in Public Archaeology (2017), pp. 60-72.
G. Moshenska and C. Bonacchi, "Critical Reflections on Digital Public Archaeology", Internet Archaeology 40 (2015).
L.J. Richardson, "Ethical Challenges in Digital Public Archaeology", Journal of Computer Applications in Archaeology 1.1 (2018), pp. 64-73.